Crochet with Baker's Twine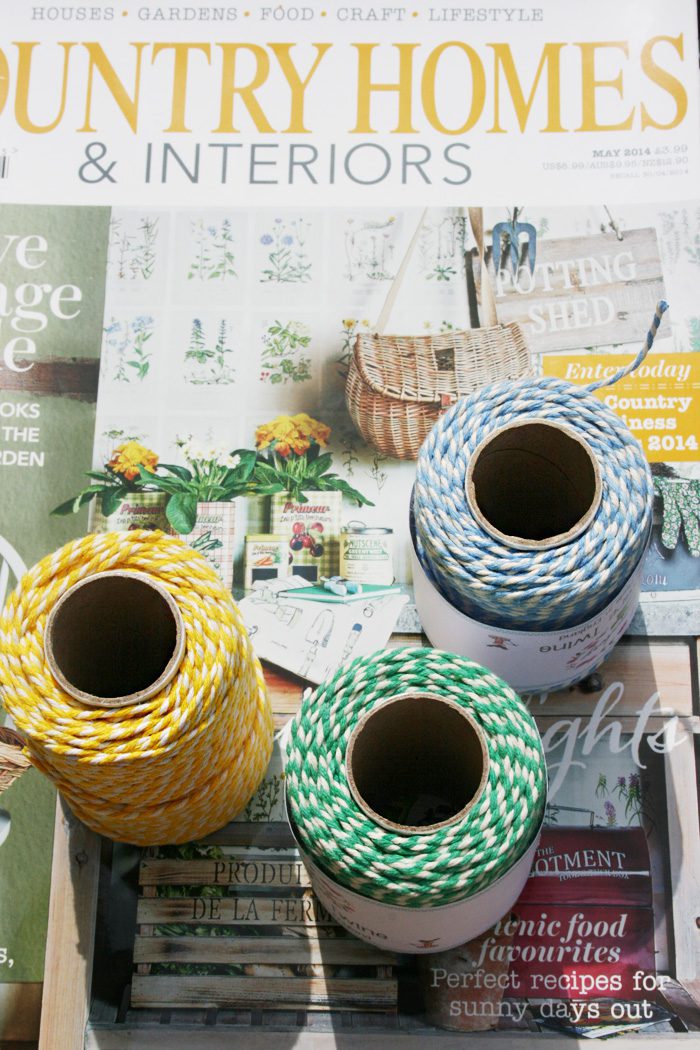 Pastel shades are so last year.
This spring I have been addicted to these three shades. Warm yellow, emerald green and sky blue are absolutely everywhere at the moment, and I'm not complaining a single bit. Usually colour trends don't connect to me much, but I am lovin' these! (Radiant orchid? Meh.)
Baker's twine is a craft room staple nowadays, and when craft shop The Homemakery came out with its line of cotton twines I was quick to snap up these colours. And let me tell you, the thick twine and bright colours are so much fun to work with.
If you're a fan of rustic, country style don't say no to baker's twine, either. It looks absolutely scrumptious when it's crocheted. (Not too twee at all!)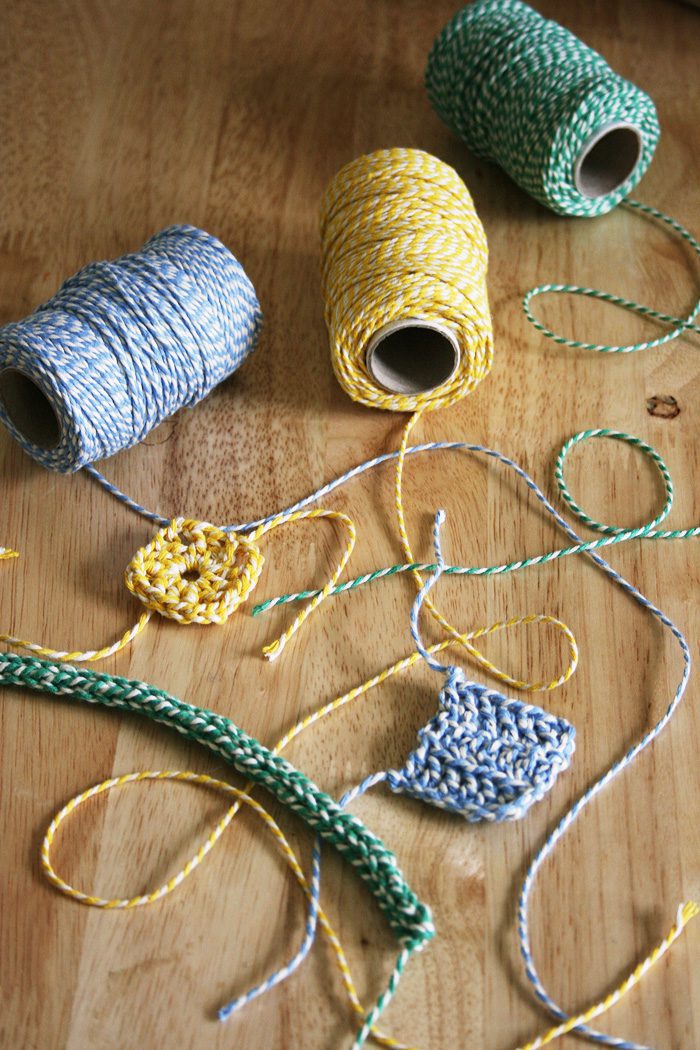 The twine is stiff and 2mm thick, making it perfect for home decor and other little pieces. My next project is to make this gorgeous crochet market bag (free pattern on Purl Soho!) after I've tried the pattern with some cheap yarn first.
Baker's twine by itself is very cute and retro, but I love the country kitchen look it gets when it's crocheted. Just as bright and nicely variegated.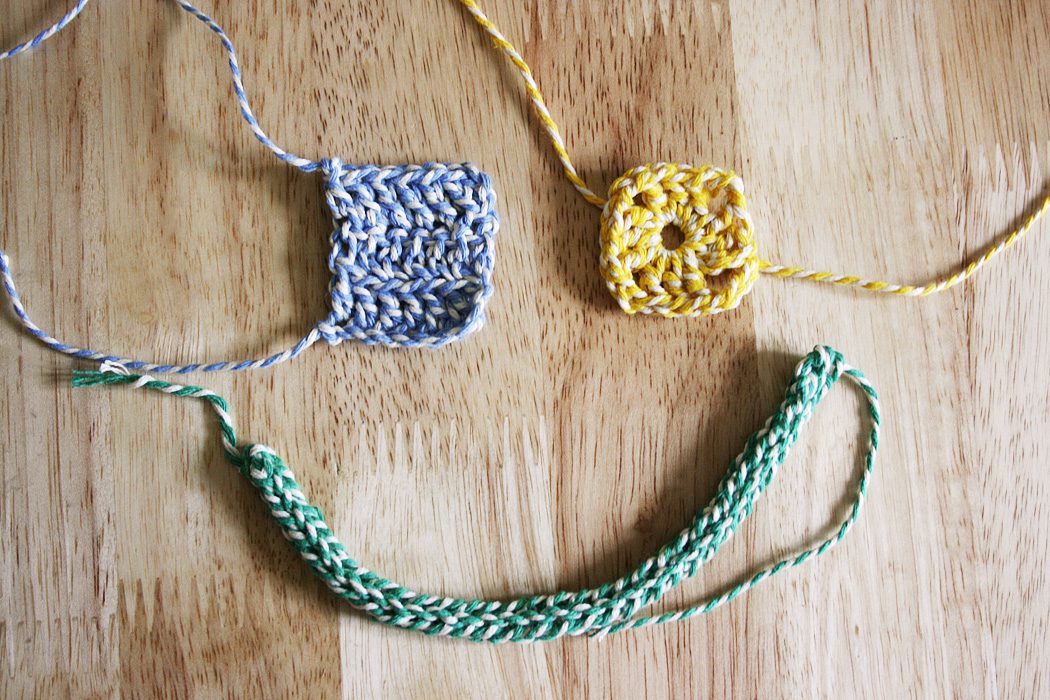 The Homemakery – Baker's Twine swatches
Powder Blue | DC 7 x 3 rows
Buttercup Yellow | 1 round DC granny square
Emerald Green | I-cord
(all with a 4mm crochet hook)
Any baker's twine will split a little when you first start crocheting with it, but when the project gets bigger the twine is easy to control. The texture of The Homemakery's twine makes loops stay in place very well, too, so there's a lot less risk of dropping something you didn't want to. (And if you've ever crocheted an I-Cord, you'll know they can be a bit fiddly!)
What do you think? Yea or nay?
[divider top="0″]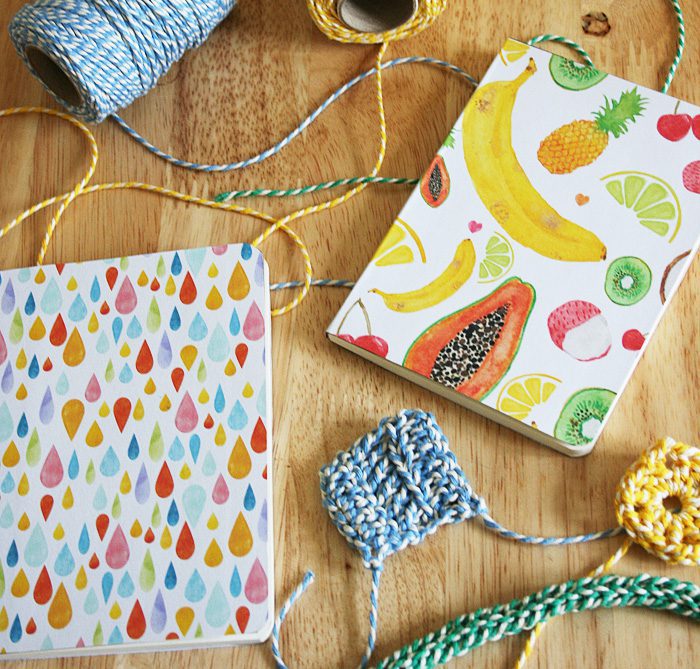 And talking about colour, I had to treat myself to these cheerful notebooks from Laura Redburn/Cardboard Cities! They're my new pocket pals.
What about you? What are your crafty obsessions at the moment?
Crafty love,


P.S. This post has not been sponsored, I just love these twines!